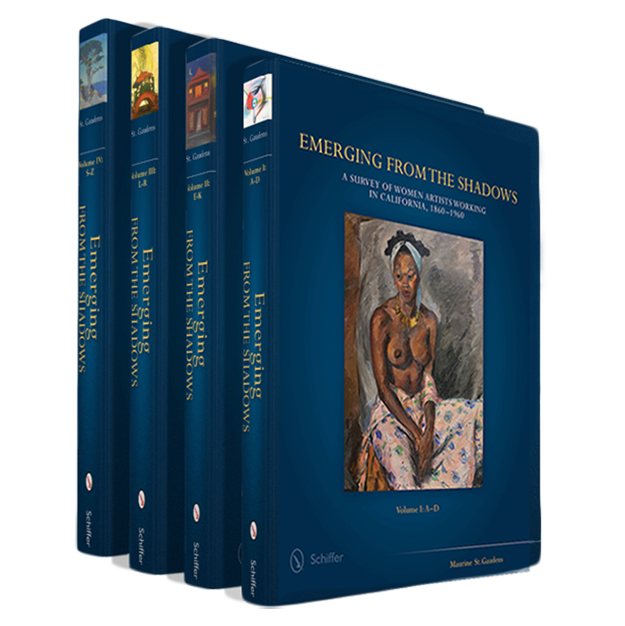 Emerging from the Shadows
This four-volume set presents the careers of 320 women artists working in California as well as throughout the United States, Mexico and Europe. Their work encompasses a broad range of styles—from the realism of the nineteenth century to the modernism of the twentieth. Within these volumes are works in a variety of media, including painting, sculpture, drawing, illustration and print-making.
More than 2,000 images trace the 100-year history of 320 women artists
Features artworks from the mid-nineteenth to the mid-twentieth century
Rare historical photographs
Previously unknown artists and artwork, rediscovered and published for the first time
A Groundbreaking Work Uncovering a Forgotten Realm of Women Artists
This four-volume set brings to life the depth and richness of a largely forgotten yet vibrant community of artists–namely the women artists who flourished in the creative world of California Art from the mid-19th century to the mid-20th century.
Preview Volume One
[responsive-flipbook id="emerging_volume_one"]
Preview Volume Two
[responsive-flipbook id="emerging_volume_two"]
Preview Volume Three
[responsive-flipbook id="emerging_volume_three"]
Preview Volume Four
[responsive-flipbook id="emerging_volume_four"]


The Project behind Emerging from the Shadows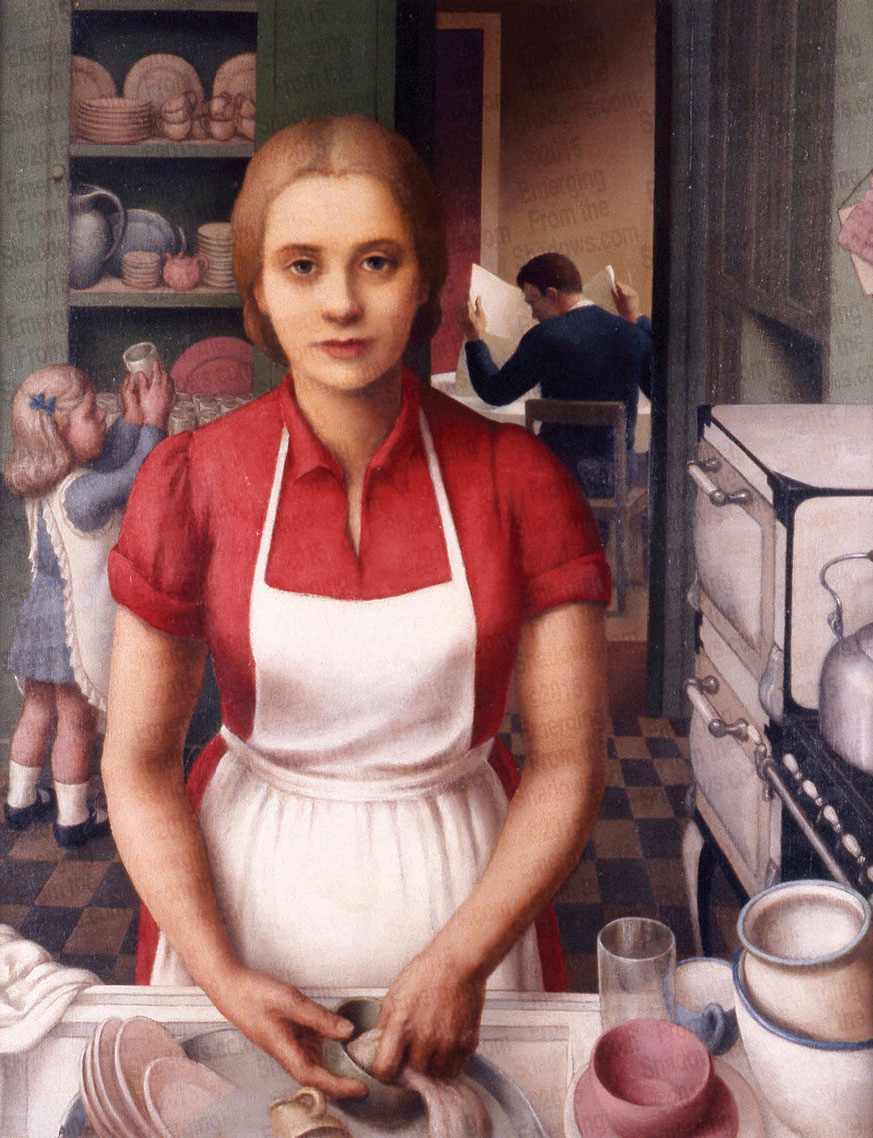 The groundbreaking book Emerging from the Shadows; A Survey of Women Artists Working in California, 1860-1960 reveals, in a highly visual presentation, the careers of 320 women artists. Its scope of examination covers 100 years of artistic output by these remarkable women showing examples of the work they created in California and throughout the world. The women showcased within the pages of Emerging from the Shadows are powerful, competent and thoughtful artists and their work encompasses a broad range of styles spanning the Realism of the nineteenth century to the Modernism of the twentieth century.
The women selected for inclusion in the book were chosen not only for their artistic merit, but also for the role they played in furthering the art culture in California. For many of the women in Emerging from the Shadows, their reputations as artists have been largely ignored or forgotten–now within this book they are being recognized and acknowledged; some for the first time. Intentionally, the lesser-known artists are presented in the book alongside their more acknowledged peers; it is time for their personal shadows to fade and for them to emerge–and Emerging from the Shadows is a first step.
While researching the artists included in Emerging, one overriding question remained: Why are so many of these women barely recognized, if at all, for their artistic accomplishments? For many of the artists profiled in Emerging, any recognition or acknowledgement received during their lifetime was often fleeting. Thus, years after their passing, many remain as a single line entry at best in most reference guides. The realization is that these forgotten women led full and fascinating lives; both in private and in their work as artists. Their experiences were all encompassing; They studied, they exhibited and they won awards. They were members of art clubs and social, civic and art specific organizations and often times, they married and reared a family. They taught art and influenced generations of artists. For a number of these artists, their work was acquired by individual collectors and public institutions, not only in California, but across the country and around the world.
Included in Emerging from the Shadows are painters, sculptors, illustrators, printmakers and ceramicists. The women profiled were trailblazers, each one essential to the momentum and growth of the arts in California and the Nation; many lived, worked and created art in a time when women still were denied the right to vote, and their contributions ultimately opened the door for heartfelt expression and equality for future generations of artists.
Presented with over 2000 images, many never before published, Emerging from the Shadows: A Survey of Women Artists Working in California, 1860-1960, is a must for art aficionados, scholars, curators and anyone with an interest in the contribution of women to the world of art.
The Project's Future and Our Mission Going Forward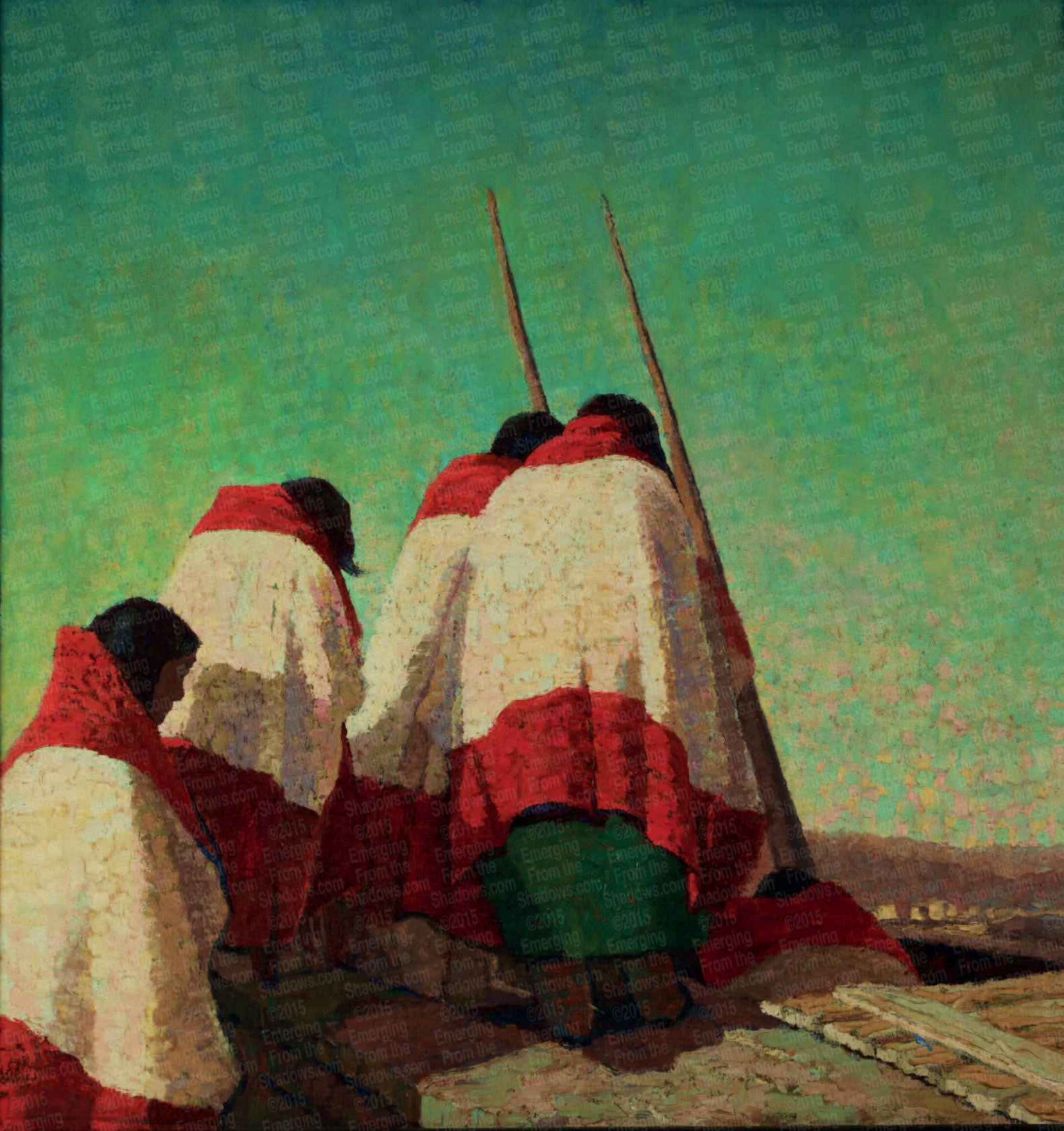 In conjunction with the publication of Emerging from the Shadows, various exhibitions are being considered which will encompass a cross-section of paintings, works on paper and sculpture culled from the over 2000 images presented in the book. Regional and genre specific exhibitions are just two of the avenues being considered. Given the number of works that have been documented during the research for the book, along with artists and works of art that have surfaced subsequent to the completion of Emerging from the Shadows, there are certainly a wealth of possibilities for arresting and thought provoking exhibitions.
The intent and spirit behind Emerging from the Shadows continues. There is more to be discovered; not only concerning biographical data for each of the artists presented in the book, but also the discovery of undocumented examples of their respective oeuvres. Finally, there are countless women artists who are not included in Emerging and for many they too remain unknown and deserve recognition and it is our goal to continue to do so with this website.
To continue our mission of furthering the recognition of countless forgotten and undocumented women artists we need to first learn of them. We hope this website will serve to provide a central point of data gathering for collectors, artist families, and curators who can help us further expand and recognize the many women artists yet to be documented. We strongly urge those that have biographical information, images, historical data and any works of art by California woman artists from this era to contact us.
With the help and continued support of the public we will be able to create a truly definite source of history for these amazing women artists – the true pioneers in the California art movement.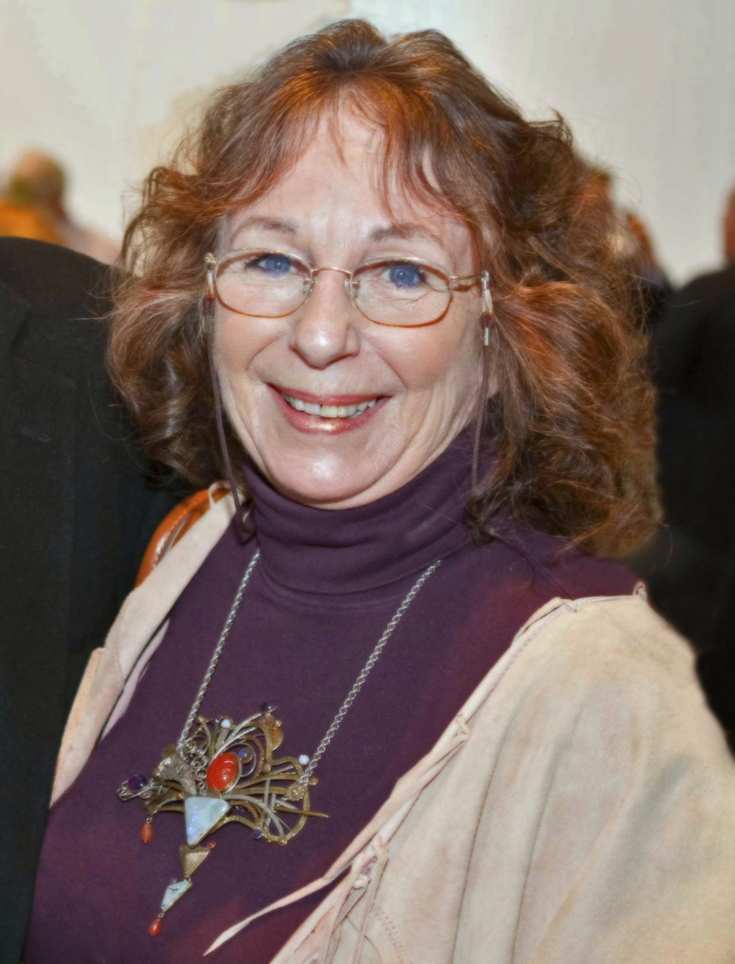 Throughout her life, Maurine St. Gaudens has been surrounded by art and creativity. She is the granddaughter of noted San Francisco jeweler, Maurice Saint-Gaudens, and the third-cousin of the esteemed sculptor Augustus Saint-Gaudens. Maurine's artistic background led to her career as a respected Fine Arts conservator and the establishment of the Maurine St. Gaudens Studio in Pasadena, California.
As a historian, scholar, and proponent of the arts, Maurine has spent her life dedicated to the pursuit and recognition of artists and an examination of their oeuvres. In conjunction with her professional work as a conservator, Maurine has served as guest curator for numerous art exhibitions throughout Southern California and as a consultant and manager to the estates of various artists.
Maurine has previously edited the book Sam Hyde Harris 1889-1977, A Retrospective: A Pictorial Biography of His Life and Work–a comprehensive presentation on the influential California artist, Sam Hyde Harris. In addition, Maurine has been a frequent contributor to numerous art publications and articles.
Always a proponent for artists from the past whose story has yet to be told, Maurine has established a reputation for recognizing and including unknown artists, particularly women artists, in her exhibitions. Her work as a historian, and her perseverance in researching unknown artists, has brought Maurine to her most recent publication Emerging from the Shadows: A Survey of Women Artists Working in California, 1860-1960.
Now Available Via Schiffer Publishing and Amazon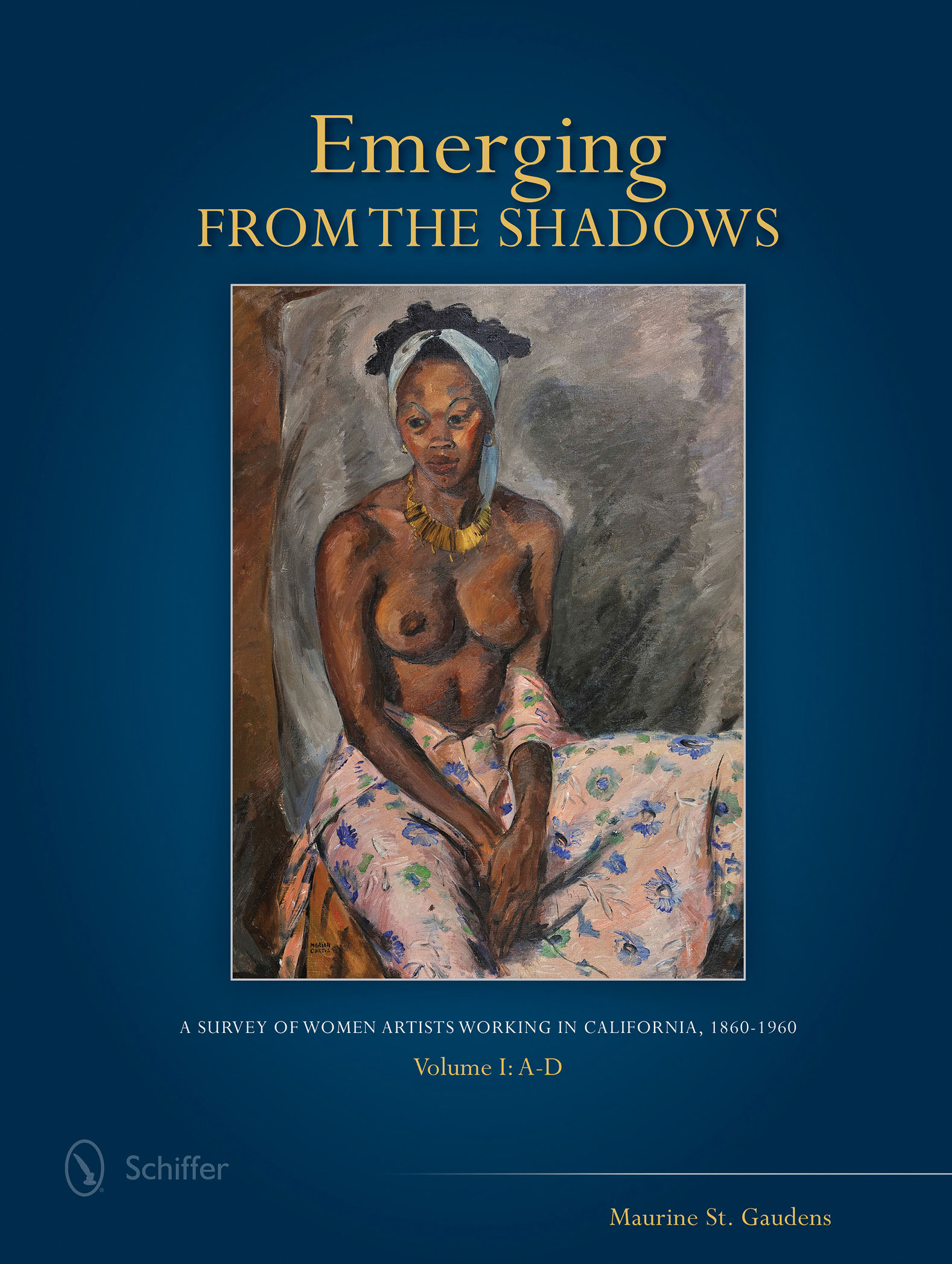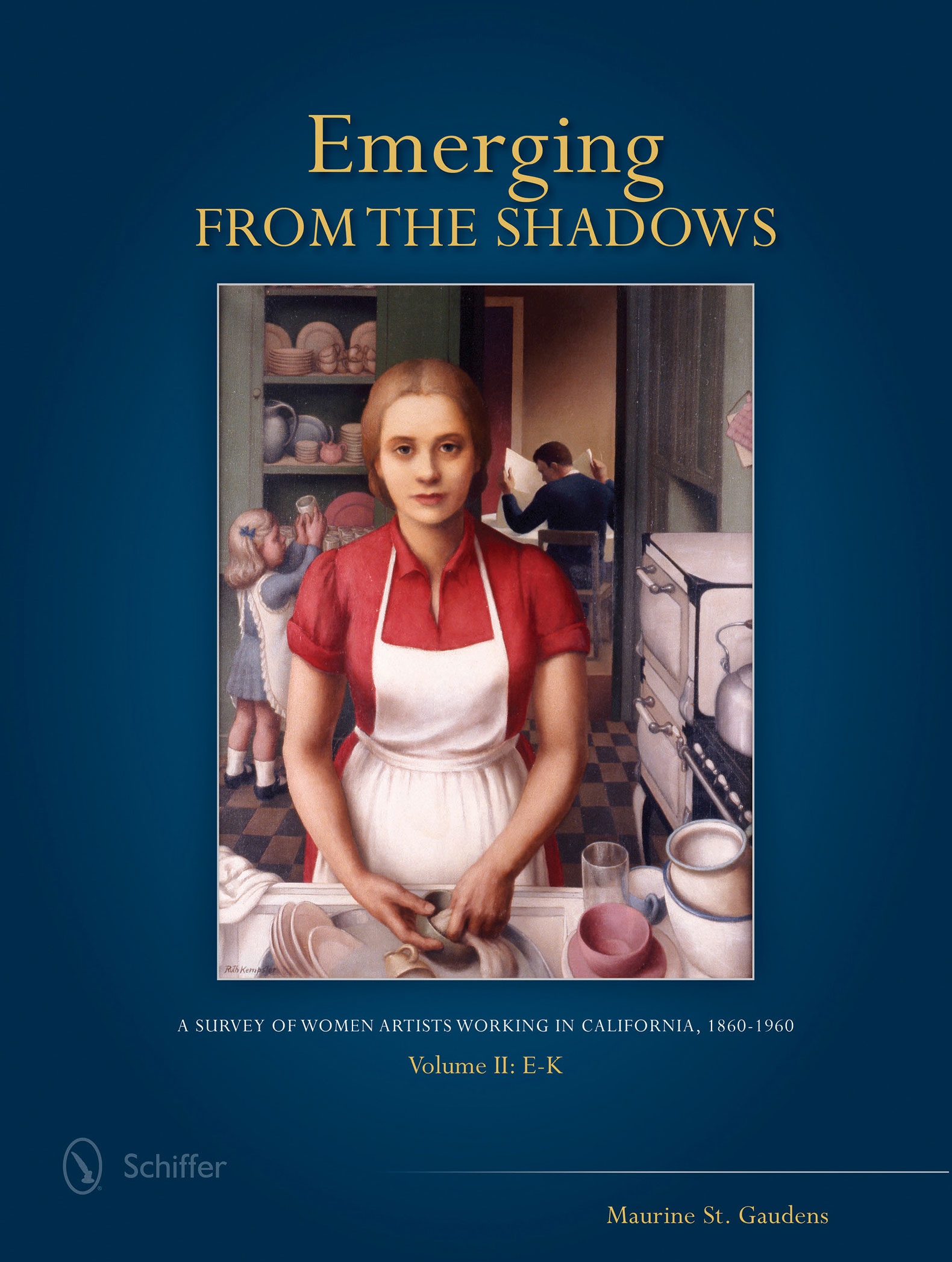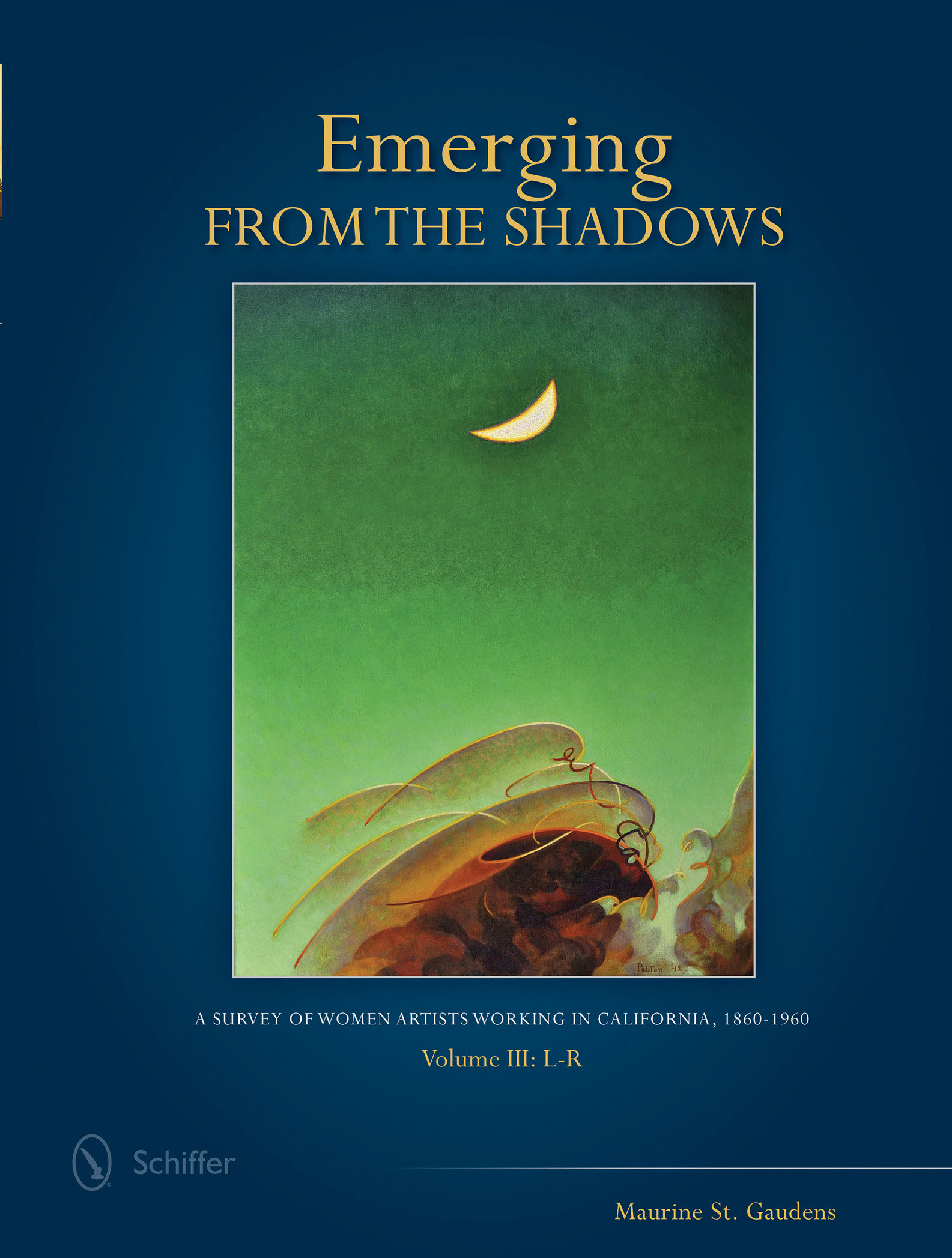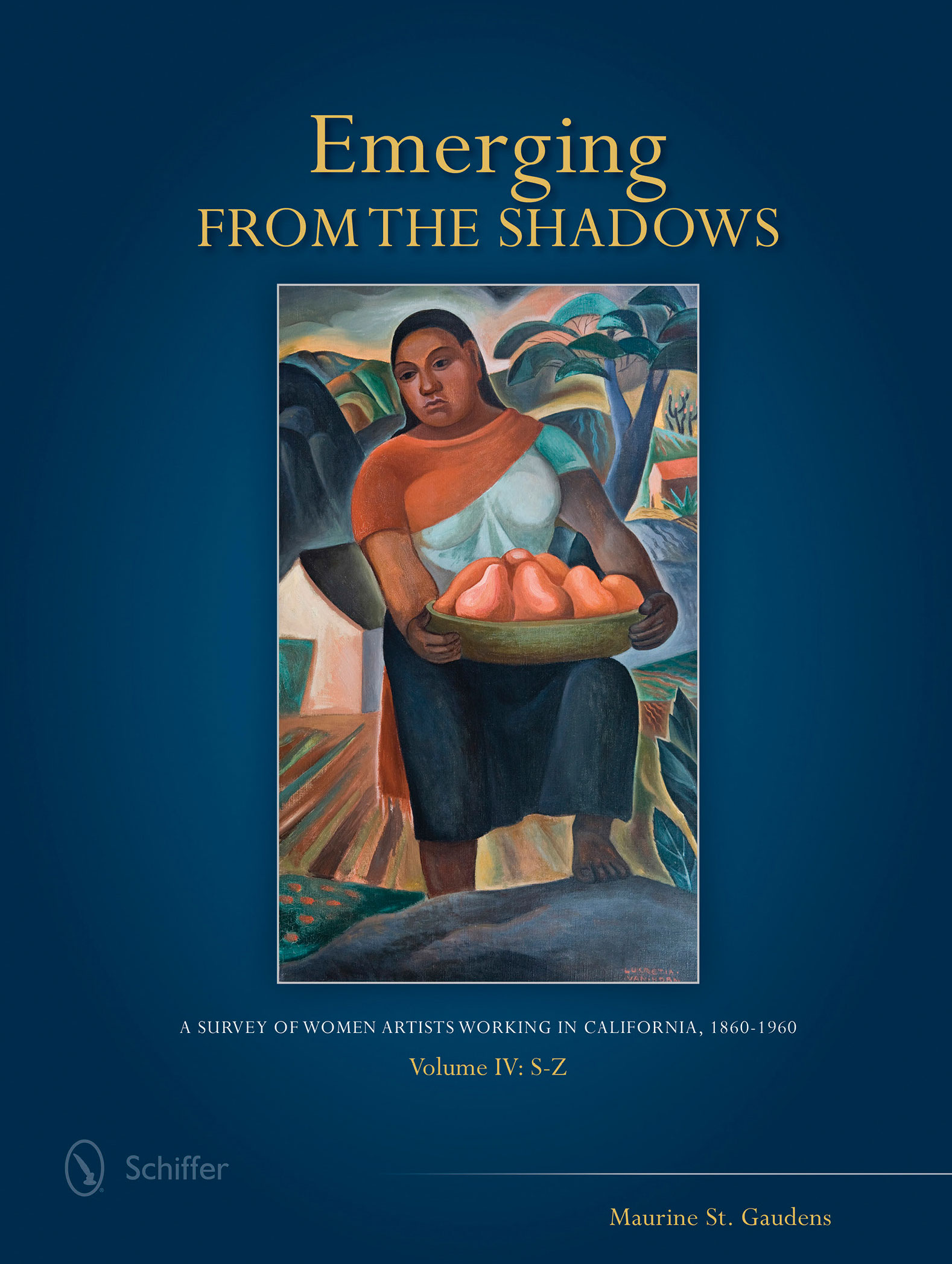 Schiffer Publishing
This set is a also available for purchase directly from the publisher's website.
Simply click on the image to the right to be taken directly to the site.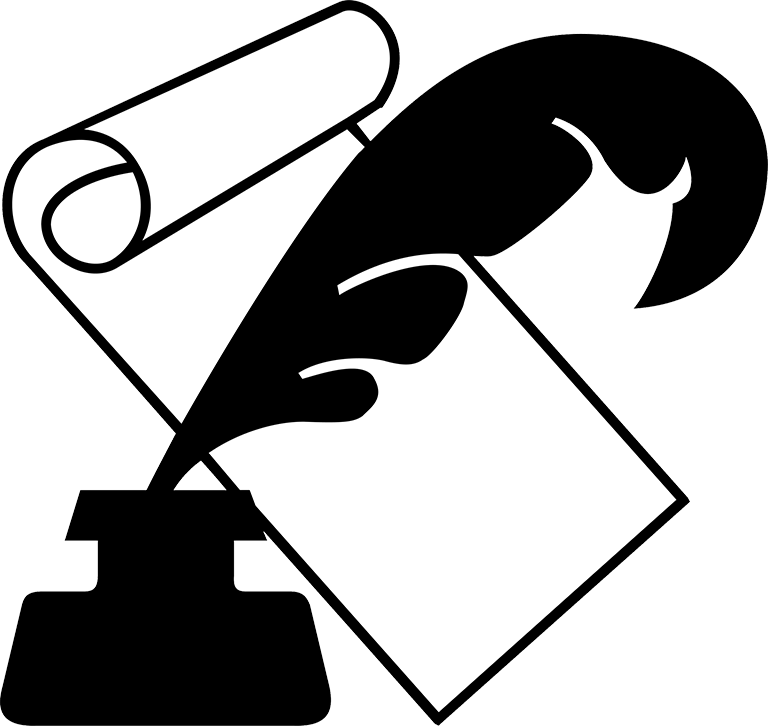 We want to hear from you regarding questions or information concerning the artists included in Emerging from the Shadows or any of the countless women artists not profiled in the book. You may reach us via [email protected]
You Can Also Click Below to Reach Us Via a Contact Form