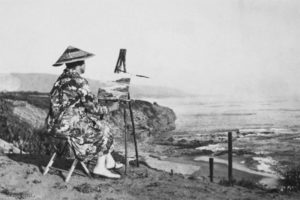 ARTFIX Daily–a website of curated art world news and exclusives–announced the opening of an exhibit in San Clemente, California featuring the artwork of Nellie Gail Moulton. She was a pioneer, an artist and an influential personage in the development of art and culture in Southern California.
The name "Nellie Gail Moulton" may be recognizable to anyone familiar with Southern California history, but who was the woman whose name has become synonymous with the development of the arts and cultural environment of Orange County?
This retrospective exhibition of her art, the first in over 50 years, showcases the life and artistic career of a confident, powerful and truly trailblazing woman in California history–presented in the context of the historical Casa Romantica's Spanish Colonial Revival museum.
This special event "Nellie Gail Moulton" opens on March 13, 2020.
At the Casa Romantica Cultural Center and Gardens, San Clemente, California
Opening reception of Who Was Nellie Gail Moulton? is on Friday, March 13, 2020 from 6-8 PM.
Curated by Maurine St. Gaudens Studios, Who Was Nellie Gail Moulton? is the first comprehensive exhibition in over 50 years of artwork created by Orange County pioneer, artist, and philanthropist Nellie Gail Moulton. The opening reception is free and open to the public.
NOTE: Due to the pandemic, the opening and exhibition has been indefinitely postponed.