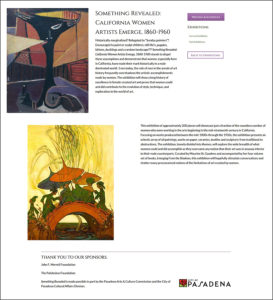 We are pleased to announce an Upcoming Exhibition at the Pasadena Museum of History, "Something Revealed; California Women Artists Emerge, 1860-1960."
Curated by Maurine St. Gaudens, the exhibition will showcase approximately 200 works of art: paintings, works on paper, textiles, metal craft and sculpture, by a number of the artists featured in St. Gaudens's Emerging from the Shadows.
Historically, many of the artists–all of whom are women–in the exhibition were unknown or under appreciated and truly marginalized during their lifetime and now are being recognized and afforded a renewed appreciation.
"Something Revealed" will be on view at the Museum from September 29, 2018 through March 2019.
Here is a link to their website for more information: Exhibit of Women Artists at Pasadena Museum of History